Sign Up
Alosoon.com helps you to connect, share, import and export goods with every company all over the world.
Posted 2017-05-23 09:22:22 - by Hà Trung Thành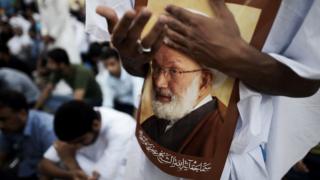 Bahraini police have opened fire during a raid on a sit-in near the home of the Sunni-ruled Gulf kingdom's most prominent Shia cleric, activists say.
The UK-based Bahrain Institute for Rights and Democracy said one protester had been killed in the incident in Sheikh Isa Qassim's hometown of Diraz.
The interior ministry said the site "was a safe haven for fugitives".
On Sunday, Sheikh Qassim was given a one-year suspended jail sentence after being convicted of corruption.
The cleric was also fined 100,000 Bahraini dinars ($265,000; £204,000) after being found guilty of collecting funds illegally and money laundering. Assets belonging to him and his ministry were also seized.
---
Bahrain civilians to face military trials
What lies behind Bahrain crackdown?
---
Last June, the authorities stripped Sheikh Qassim of his Bahraini citizenship, leaving him stateless and at risk of deportation at any time and prompting supporters to protest outside his home.
The latest court case had increased tensions in the country, which has been wracked by unrest since security forces crushed pro-democracy protests mainly led by Shia during the Arab Spring in 2011.
The authorities have launched a wider crackdown on dissent over the past year that has included banning the main Shia political grouping, Wefaq, which was accused of fomenting sectarian unrest, and jailing its leader Sheikh Ali Salman.
Wefaq helped lead the protests six years ago, which demanded greater political rights and an end to discrimination against Shia by the Sunni monarchy.
The following month, King Hamad brought in troops from neighbouring Sunni-led Gulf states to end the demonstrations and restore order. The unrest left at least 30 civilians and five policemen dead.
Opposition activists say dozens of people have been killed in clashes between protesters and security forces since then, while bomb attacks blamed on Iran-backed militants have killed a number of policemen.
In January, the authorities executed three Shia men convicted of carrying out a 2014 bomb attack that killed three police officers.
Bahrain is the home to the US Navy's 5th Fleet and will soon be the location of a permanent British Royal Navy base, HMS Jufair.